Looking for Office Pantry Snacks?
Try us out with our single-serve packs. They are convenient and easy to use. Purchase more to save more. Find out more here. 
Fully Customisable Corporate Snacks
We have the capability to fulfill orders of any size. We have supplied to government agencies, schools, companies, businesses, organizations, and religious organizations. Contact us now with your requirements, let us send you our corporate mixed nuts catalogue!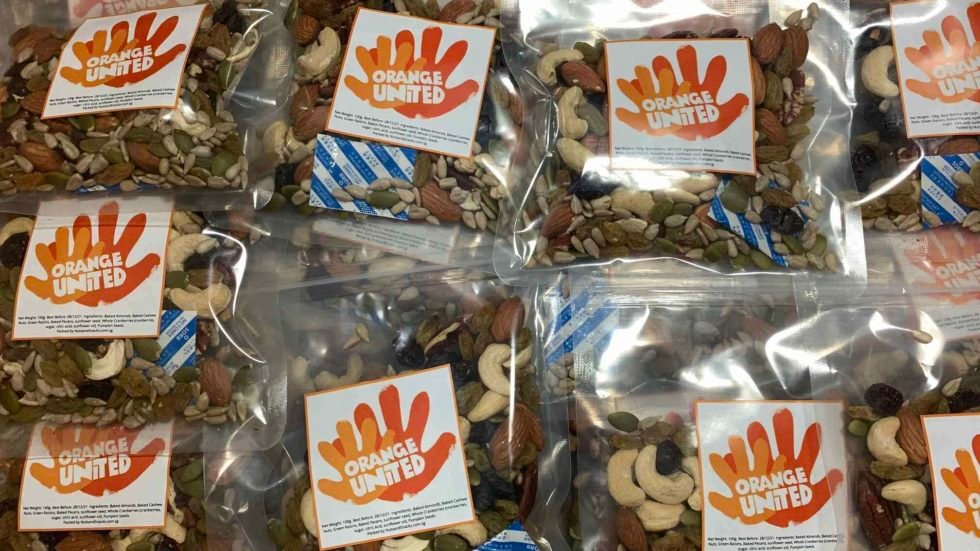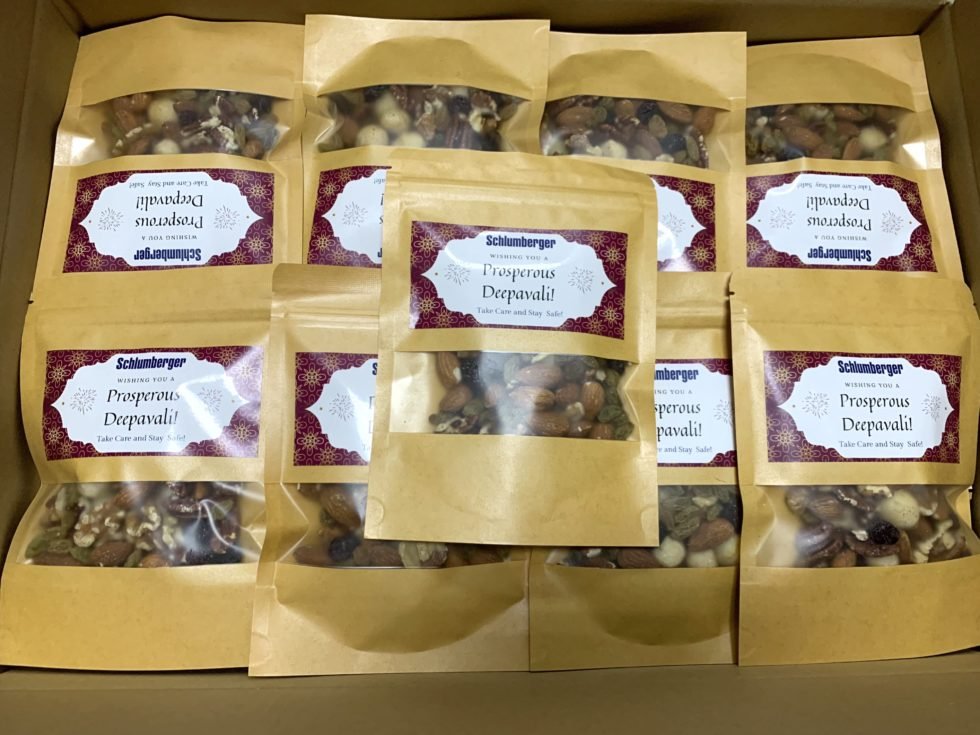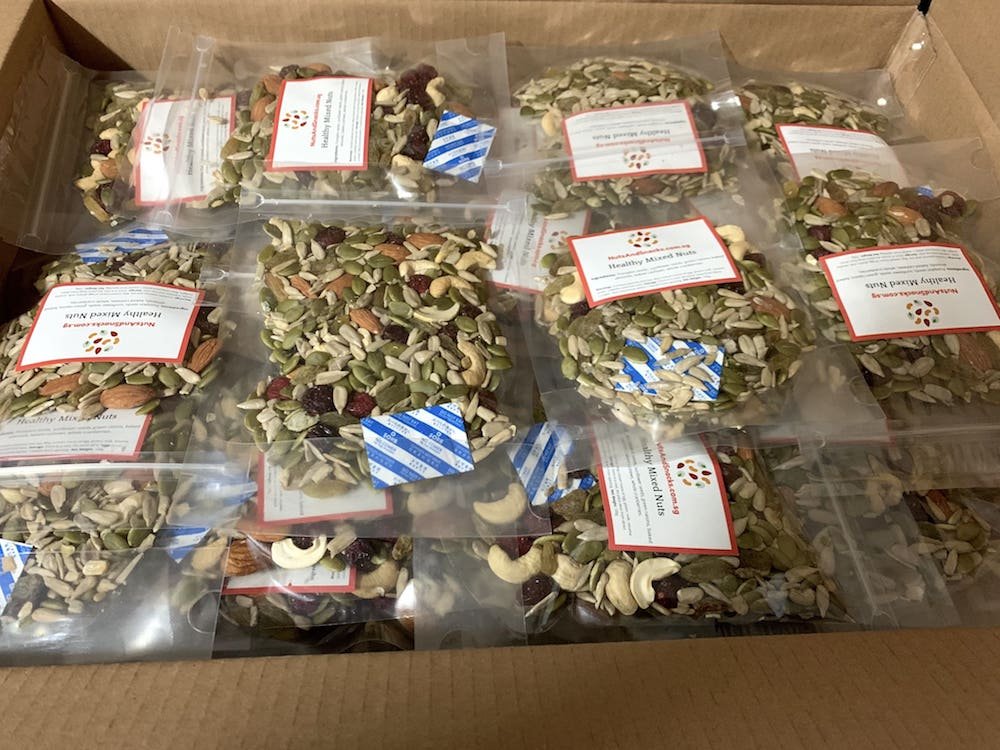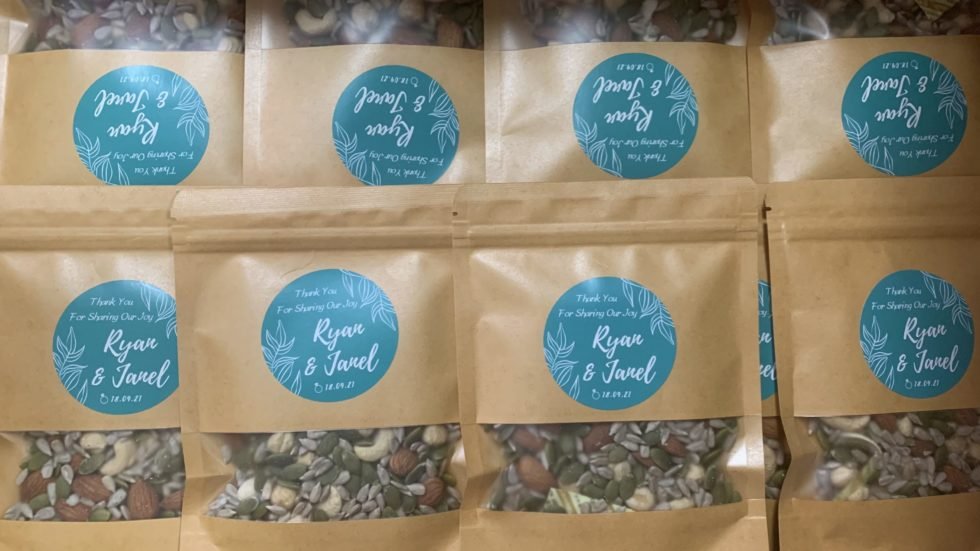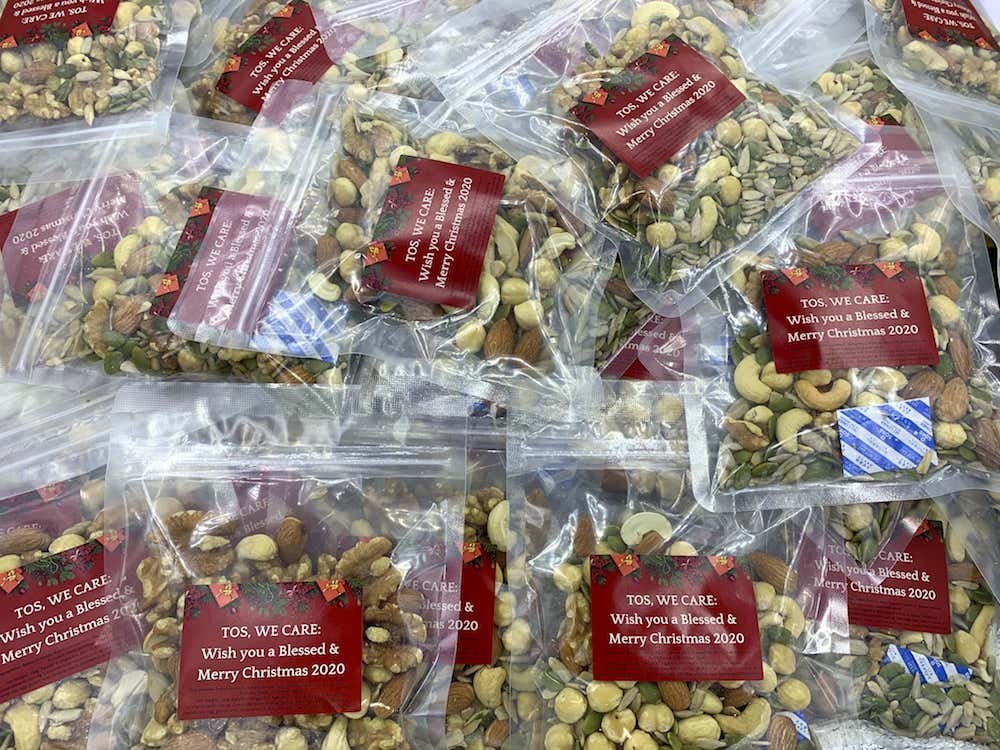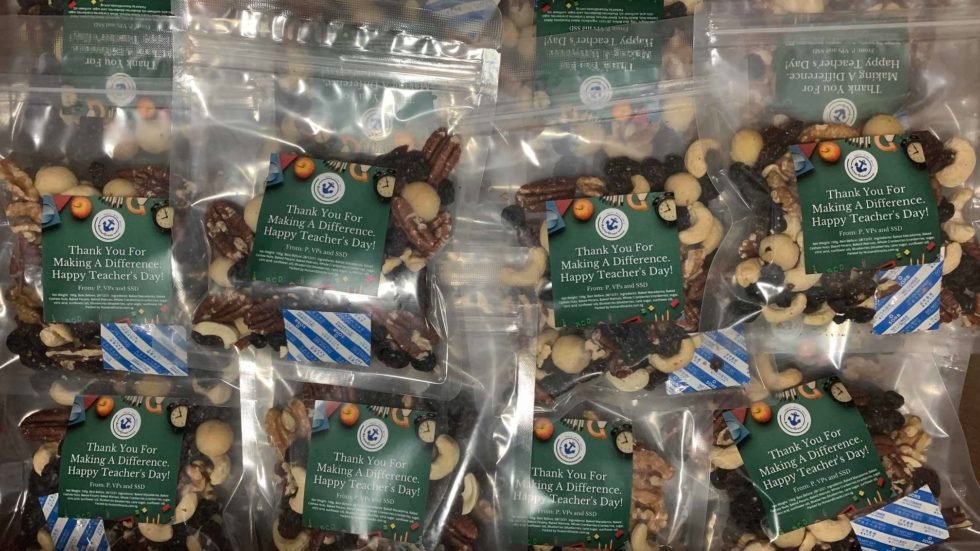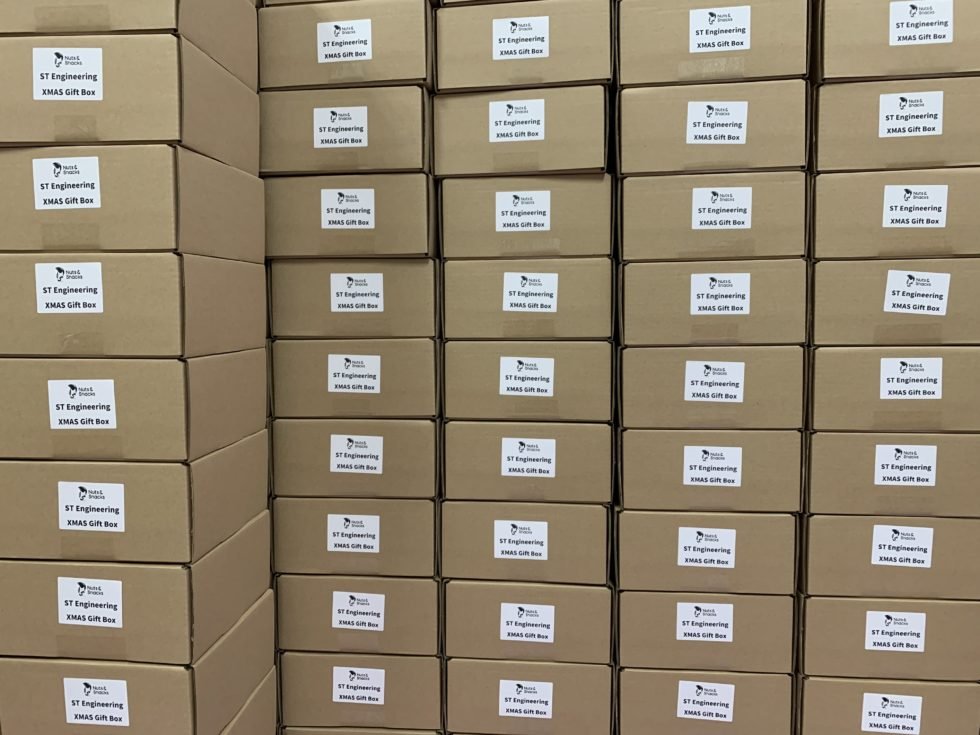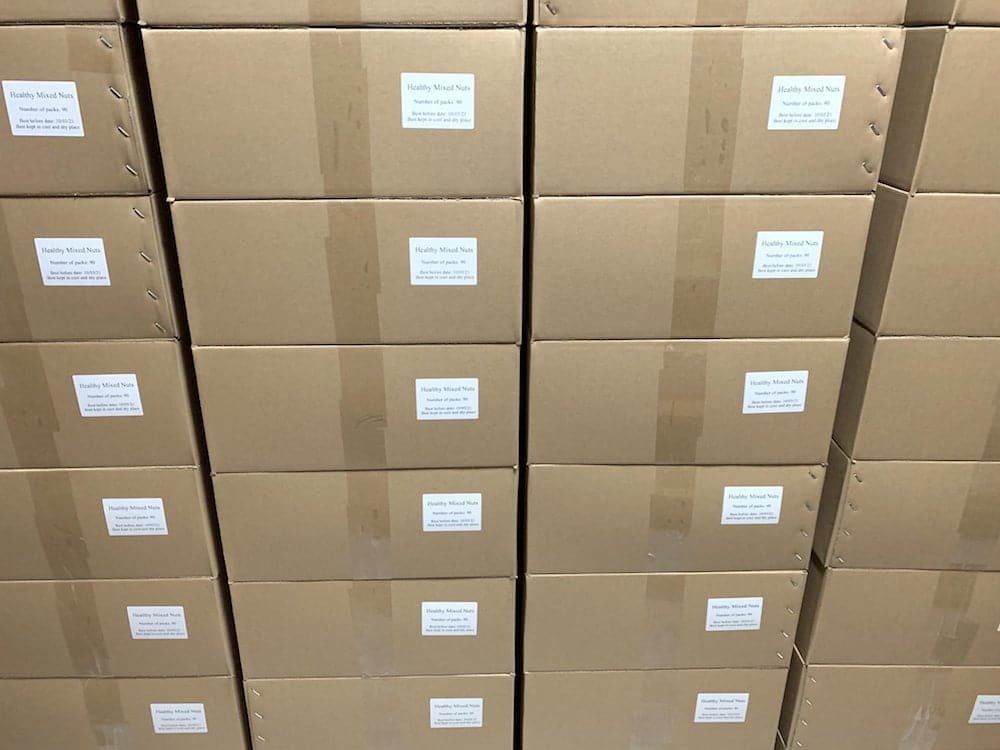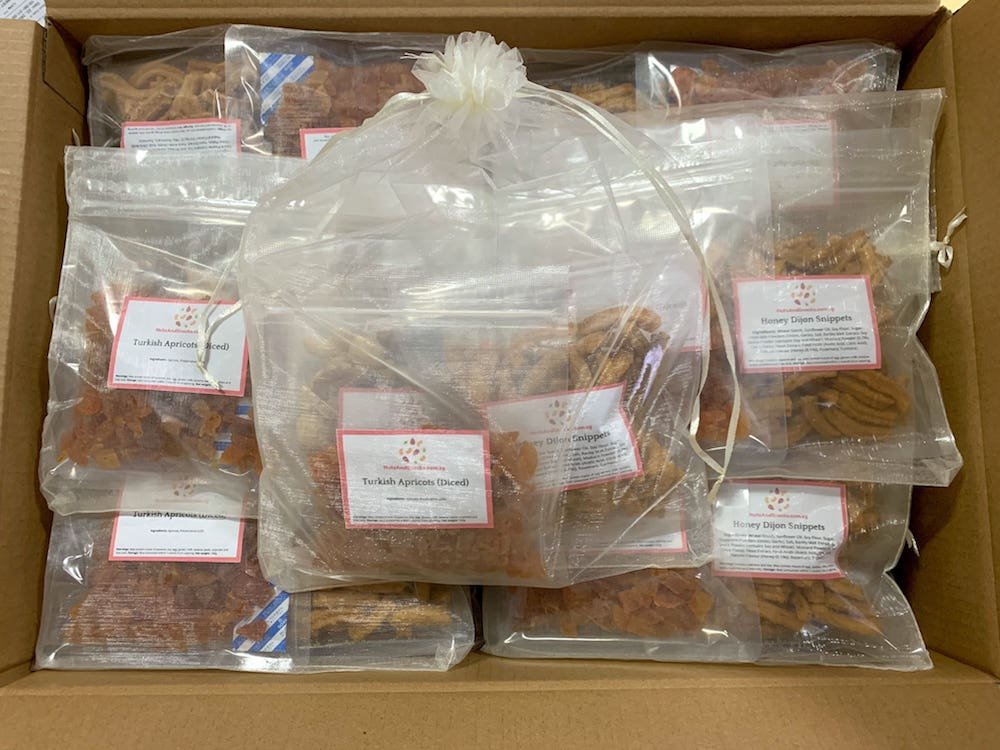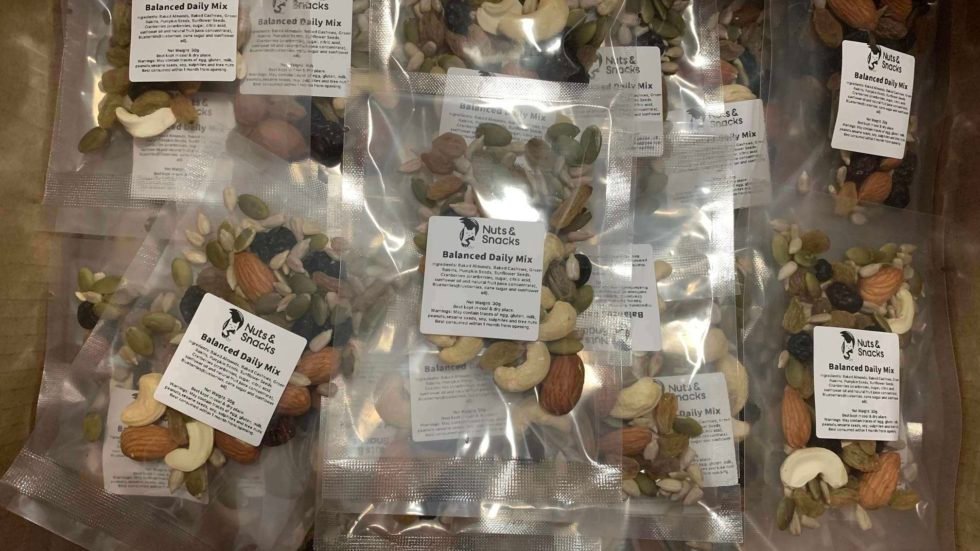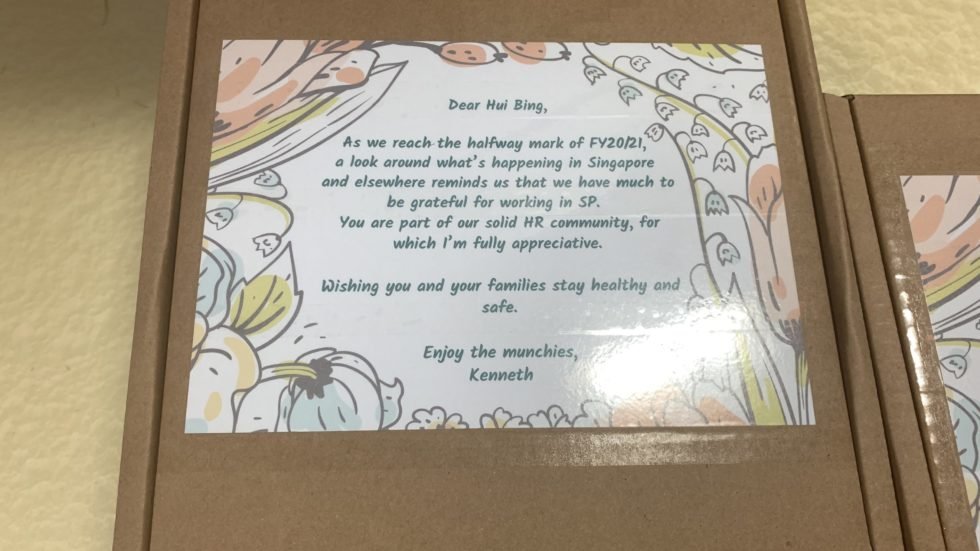 Suitable for Office Pantry, Corporate Gifting and Events.
Drop us an email, we will send you our Corporate Mixed Nuts Catalogue with all the details. We have a few options for you to choose. We can also propose more options for you. You can DIY and decide on the Nuts, Seeds And Dried Fruits. We will do the mixing and packing for you!
Zipper pouches, transparent/kraft
Single-serve packs
Add corporate branding stickers
Gift Card
Fully customisable depending on your budget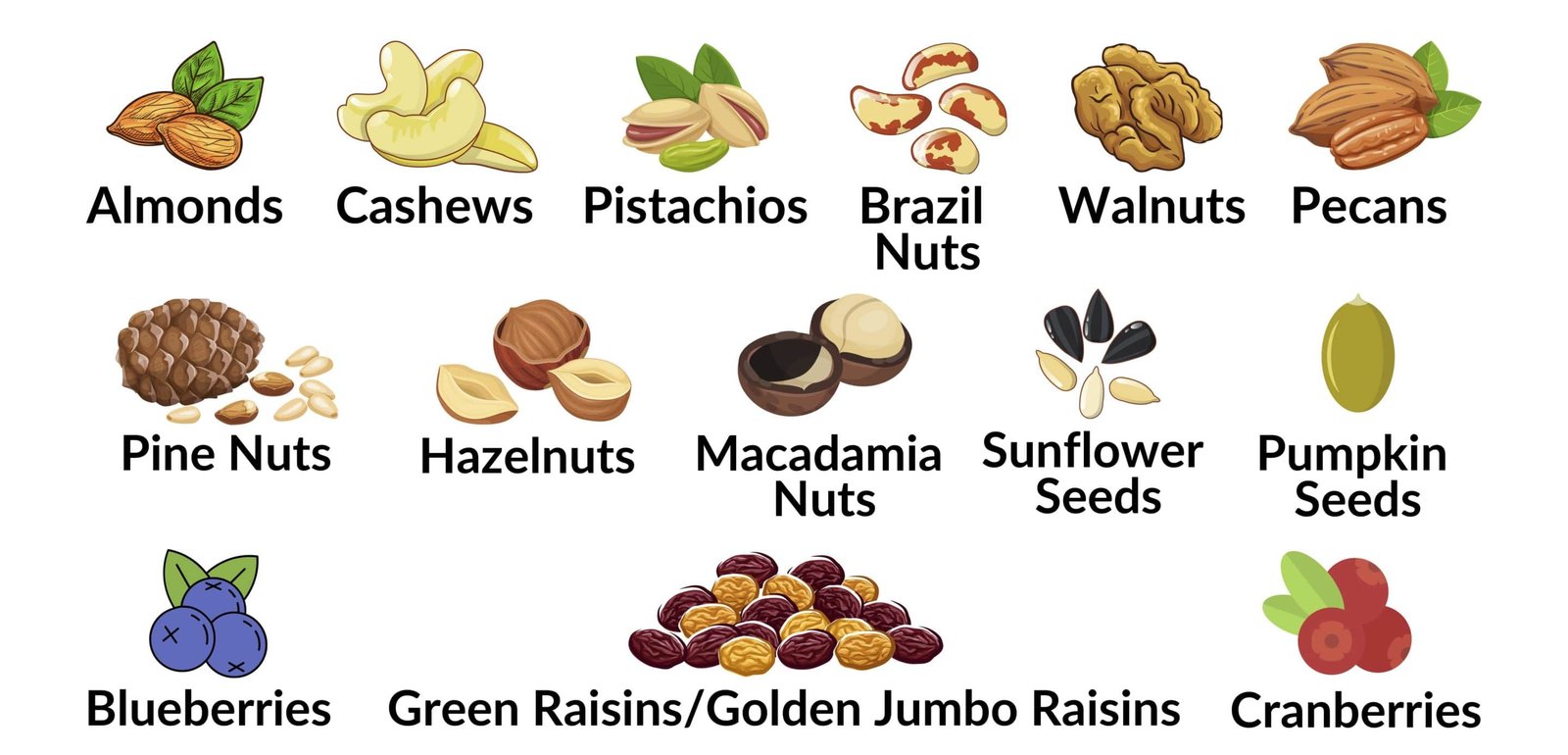 Corporate Order Example A
An esteemed company is planning to get a pack of mixed nuts each for their employee for Deepavali. We provided them with our corporate mixed nuts catalogue with several options. After consideration, they chose option 3 from our catalogue. They also requested Kraft Packaging for the mixed nuts. Other than this, they wanted a corporate branding sticker. The customised sticker design was provided by the company. We printed according to the sticker size of 5.5cm x 11cm. This is what the result is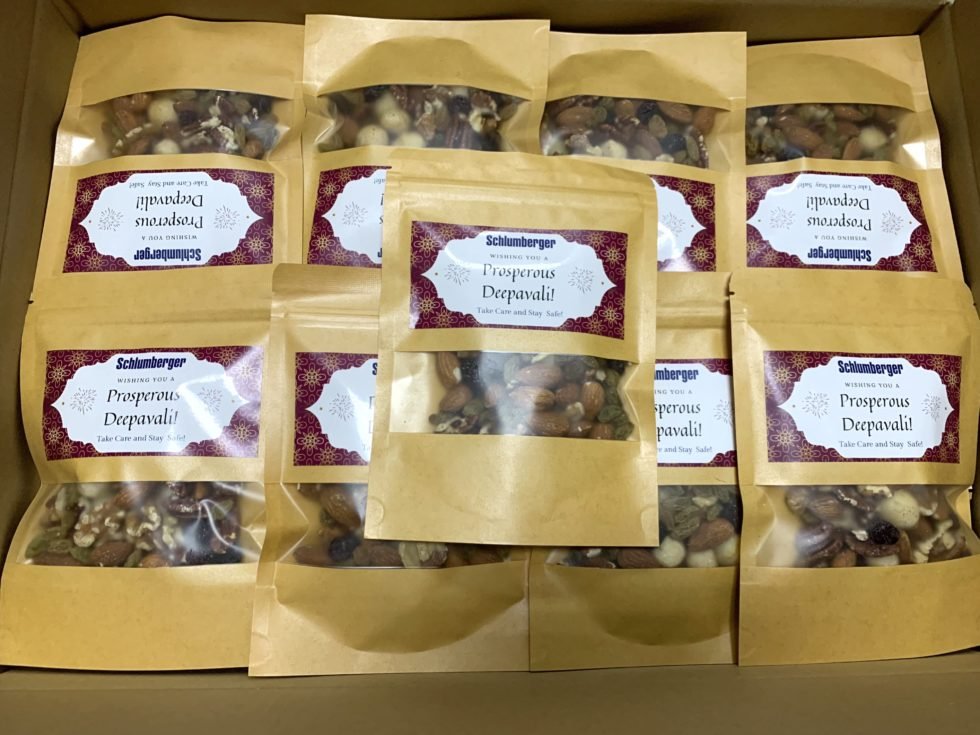 If you do not have a sticker design, we can provide the complimentary service of designing the sticker for you!
N&S mixed nuts pack is very suitable as a company gift for employees. Use this gift as a way to say thank you for their hard work. Welfare for your employees is very important and our mixed nuts is a gift idea that is highly customizable. You can personalised each pack by adding a corporate branded sticker, which can include your personalised wishes and company logo. Our premium nuts and snacks is a food gift idea that you can consider. Each pack after customization is also under $5 per pack. If a holiday occasion or company anniversary is coming up, our mixed nuts can be that gift for your employees. We can meet all budgets so send us a mail with your requirements.
Dedicated Sales Manager
Our sales staff will attend to your questions and help you to finalize your mixed nuts based on your preference and budget. The sales staff is also fully capable of giving you recommendations if you need any. We work on the basis of trust, honesty, and transparency.  We understand that you are busy and thus, we do our best to make your corporate order process a smooth and easy one.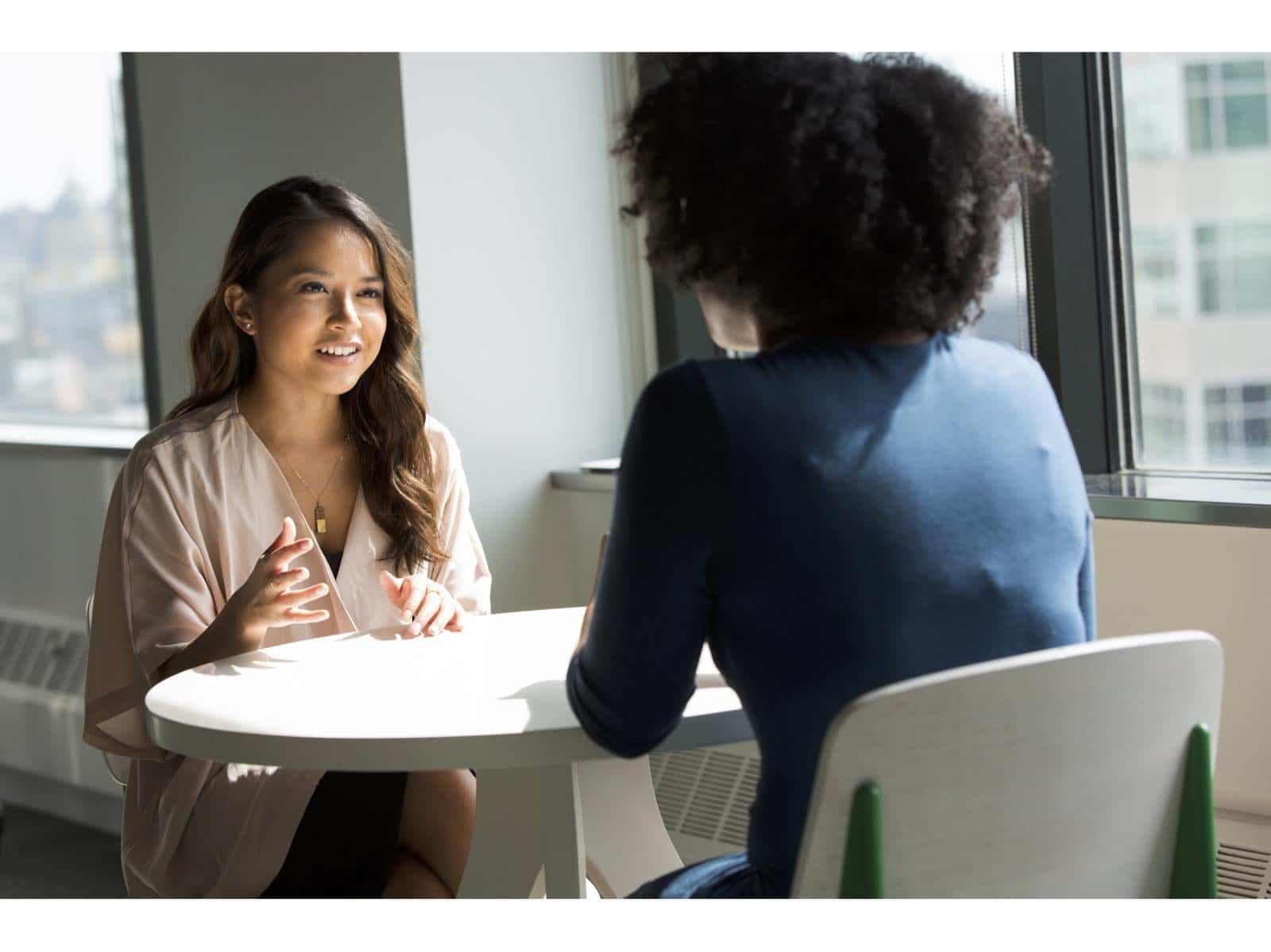 Step 1: Arrange For Discussion
Simply email us with your requirements and we will get back to you within 24 hrs. For large orders, if required, we will arrange a meet-up and at the same time provide product samples for tasting. If meet up is not possible, discussion can be held on the phone, email or zoom meeting. If samples are required, we will send them to your company address.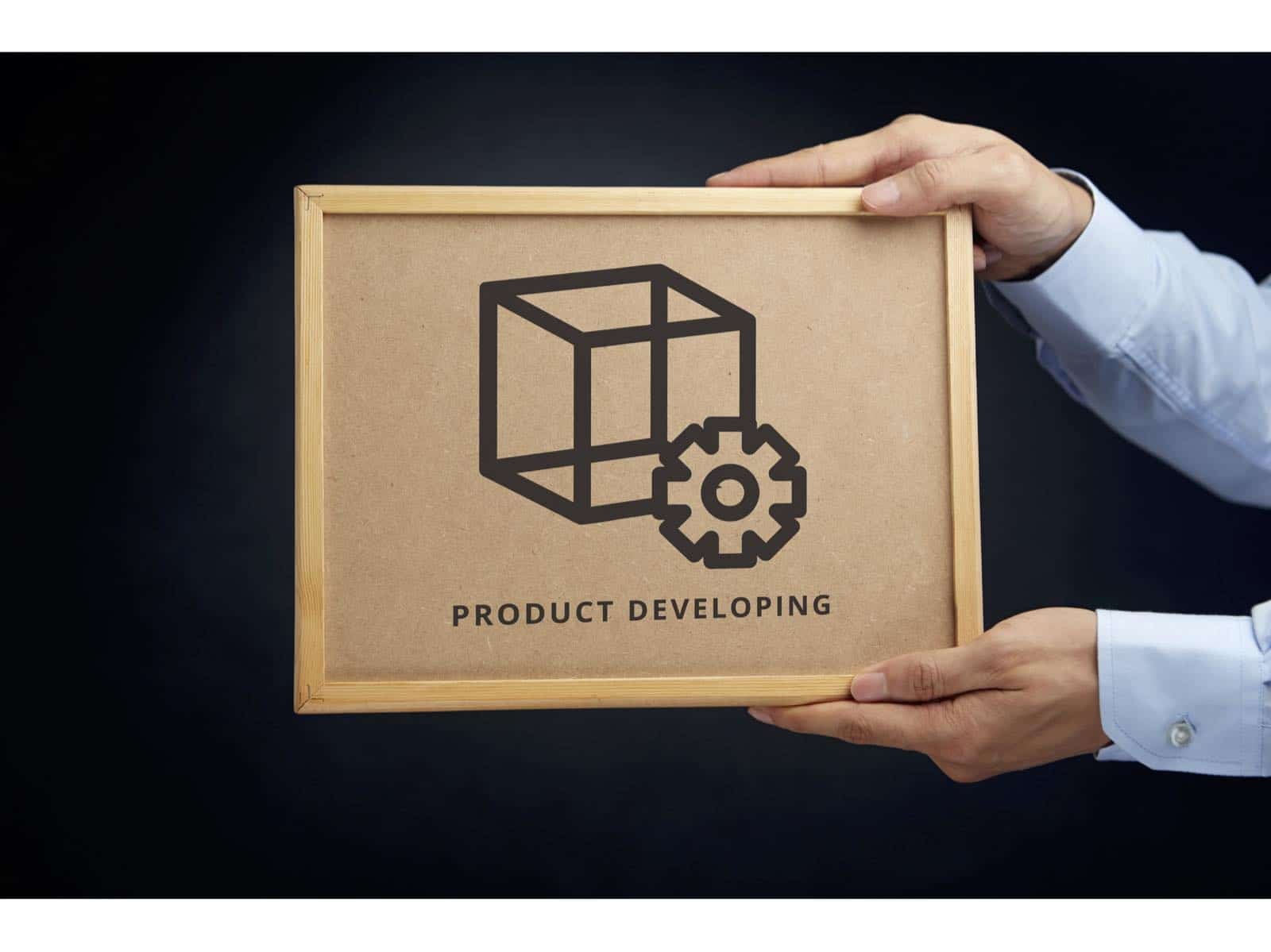 Step 2: Product Finalisation
We will discuss the mixture of nuts, seeds and dried fruits. At the same time, determine the suitable weight of each packaging.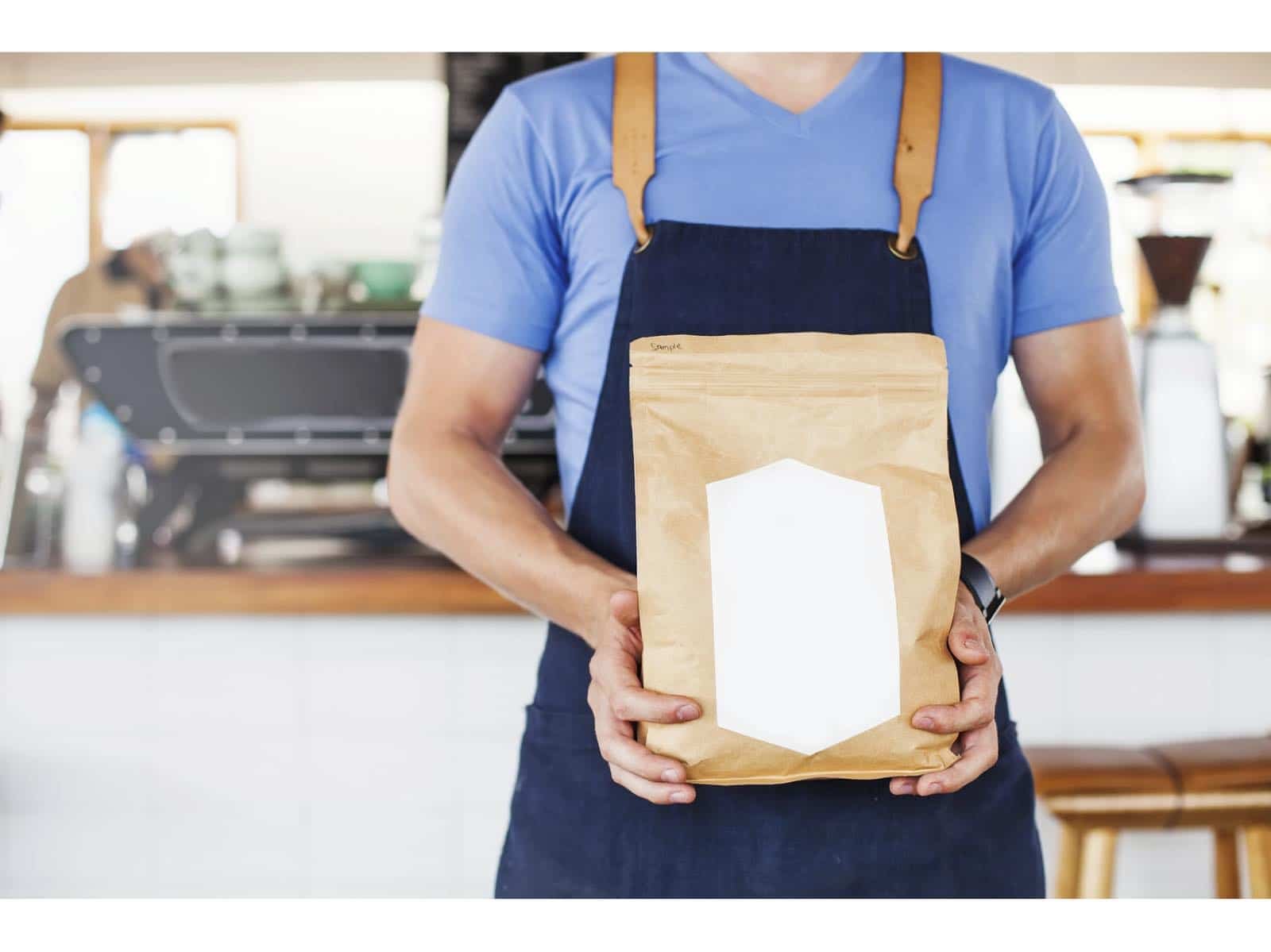 Step 3: Package Design
Discuss about sticker printing for your company branding on the packaging. We will show you some designs which you can consider. If you already have a design, you can let us know. We have a wide range of packaging available. Kraft packs, zipper bags, single-serve packs, containers and jars. 
Step 4: Corporate Pricing
We will share with you our method to derive the final corporate pricing. All pricing are transparent and dependant on the ingredients in the mixed nuts. Once product is decided we will submit an official quotation to your company.
Corporate Bulk Order Information
Lead Time
Depending on your order quantity, the lead time is approximately 1-2 weeks. Lead time is dependant on requirement complexity. Contact us for more information with lead time.
Let Us Do It For You
We understand that you are busy and might not have the time to have the discussion. Simply give us your budget, and we will submit a proposal to you. Our corporate mixed nuts catalogue also contains different options for you to choose from!
Budget-Friendly
We cater to different budgets, low or high. Contact us now to see how we can assist you!!
E-invoice
We can provide E-invoice at Vendors@GOV and GEBIZ.