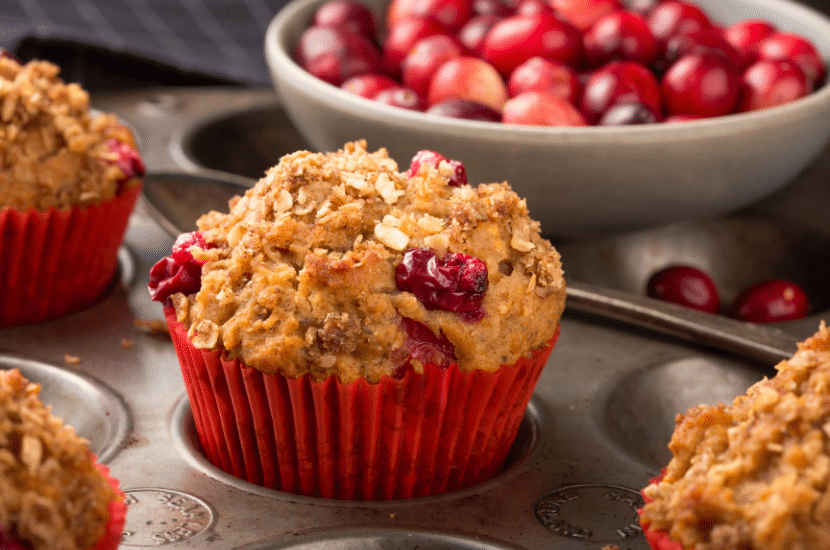 How To Use Cranberries (Recipes)
These ruby-like dried cranberries are a delight to add into your recipes and cooking. They are good sources of vitamins, antioxidants, and are known to have preventive effects for Urinary Track Infections (UTI). Find out more on how to incorporate cranberries into your diet through some of these delicious recipes in this article.
Health benefits
Cranberries have been associated with the prevention of recurrent UTI in women, due to the high amounts of an antioxidant called proanthocyanins (PACs) present, which keeps bacteria from sticking onto the urinary track walls, hence preventing infections. Cranberries improves blood sugar levels, raises "good" cholesterol levels, reduces body mass index, and reduces the risk of developing heart illness. They may also slow the growth of cancer cells and prevent gum diseases. To be cautious, those with a history of kidney stones should seek advice from a healthcare professional regarding the intake of cranberries.
Cranberry pumpkin seed muffins
Time needed: 27 minutes
Serves: 12
What you need:
2 cups or 250g all-purpose flour
2 large eggs
¼ teaspoon salt
2 teaspoons baking powder
1 teaspoon vanilla
¼ teaspoon baking soda
½ cup of milk
1 and a ½ cup of sugar
¾ cup of pumpkin seeds
2 cups of dried cranberries
5 tablespoons of softened butter
Cinnamon sugar as garnish
 Steps:
Preheat the oven to 190 degrees.
Set the frying pan to medium heat and toast the pumpkin seeds until they are light brown and fragrant.
In a large bowl, cream the butter and sugar together until well combined.
Whisk in the eggs and vanilla.
In a separate bowl, add in baking powder, flour, salt and baking soda and mix these dry ingredients well.
Add in a little of the dry mixture to the wet mixture in the large bowl, then add in milk. Stir the mixture and repeat the process of adding the dry mixture followed by the milk.
Pour and fold in the cranberries, then add ½ a cup of the toasted pumpkin seeds.
Line the muffin tray with 12 paper cups.
Pour in the batter to about ¾ full. Sprinkle some cinnamon powder and pumpkin seeds on top as garnish.
Bake the muffins for 20 to 25 minutes, until they turn brown. Insert a toothpick to see if it clean, signifying that the muffins are fully baked.
Storage:
You may keep them in an air-tight container for up to 3 days.
To freeze them, let them cool completely before putting them into freezer bags in a single layer. Label them with the date of production and you may store them for up to 3 months. Thaw at room temperature for around 2 hours should you want to eat them.
To heat the frozen muffins, you may wrap them with kitchen paper towels and microwave for around 20 seconds or not too long, as they may turn dry. Alternatively, you may preheat the oven to 177 degrees and heat them up for around 15 minutes.
Cranberry cucumber salad
Time taken: 15 minutes
Serves: 6
What you need:
1 cup of fresh spinach
2 tablespoons of dried cranberries
2 tablespoons of lemon juice
2 tablespoons of water
3 tablespoons of olive oil
1 pinch of cracked black pepper
1 medium-sized cucumber without seeds and diced
3 cups of mixed salad greens
¼ cup of olives without pits
1 cup of cherry tomatoes cut in half
A pinch of cracked black pepper
1 and ¼ teaspoon of homemade spice (see instructions below)
Homemade spice recipe:
What you need:
¼ teaspoon of ground turmeric
½ teaspoon of ground coriander
¼ teaspoon of garlic powder
1/8 teaspoon of cayenne powder
½ teaspoon of ground cumin
½ teaspoon of paprika
Steps: Combine all of them in a small bowl. You may keep your homemade spice for up to 6 months.
Cranberry cucumber salad steps:
Add in spinach, tomatoes, cucumber, dried cranberries, olives, and salad greens into a large bowl. Leave it aside.
Fill up a small bottle with lemon juice, 2 tablespoons of water, homemade spice, and olive oil. Shake well and then drizzle over your salad and mix well. Sprinkle black pepper over if you wish. There, your cranberry cucumber salad is complete.
Cranberry sauce
Time taken: 25 minutes
Serves: 8
What you need:
2 tablespoons of corn starch
¼ cup of water
2 to 3 tablespoons of orange zest
1 and a ½ cups of dried cranberries
Juice from an orange
¼ cup of sugar
¾ cup of cranberry juice
Dash of salt
Steps:
Add the dried cranberries, cranberry juice, sugar, salt, orange juice and zest to a medium-sized saucepan, then set to boil.
After the mixture has reached boiling point, lower the heat to a simmer and cook for about 5 to 10 minutes, until the cranberries become plump.
Mix the cornstarch with water to form a thick gluey substance. Add it to the cranberry mixture and stir for at least 1 minute. As the sauce cools, it will thicken even more. There your cranberry sauce is ready.
 We hope that you will love our cranberry recipes. Enjoy!