Supporting growing children
As parents, our children are always near and dear to our hearts. As they grow and mature, they need to be supplemented with the right foods to give them the nutrition they need to thrive. This article introduces you to the foods you should be feeding your kids to keep them happy and healthy.
What are the most important nutrients for growing children?
#1 Protein
Protein helps ensure that your child is able to grow and build muscle. Protein also boosts the body's immune system and gives your child the energy they need to break down other food to give them energy.
#2 Carbohydrates
These are the most important source of energy for growing children. Running and bounding around the whole day, ensure your child has enough carbohydrates to keep them going. Beware though! Ensure your child stays away from food high in refined sugars, such as cakes and candies. Kids should be consuming foods that contain more starch and fibre. No more unwanted sugar highs!
#3 Fats
This word might scare you, but children need them. Fats are another excellent source of energy and are easily stored and used up given that children have such a high metabolism rate.
#4 Iron
Iron is a mineral stored within red blood cells. Without it, our cells would not be able to get the oxygen it needs. Feed your children with iron-rich foods to ensure that their cells are working at their greatest capacity.
#5 Folate
Folate is important in red blood cell formation and for healthy cell growth and function. It is not only important for growing children to have sufficient amounts of this but soon-to-be mothers as well.
#6 Fibre
Healthy bowels, healthy children! Ensure your children eat enough fibre and greens to keep tummy aches at bay.
#7 Vitamin C – This important vitamin will be a real booster for your child's immune system. Playing around in the dirt and touching dirty surfaces with grubby hands can expose your child to unwanted illnesses. Vitamin C can help with that! It can also help the body to heal wounds, helping that scraped knee or cut finger to heal in no time.
What are some foods I can feed my child to get these nutrients?
It may seem like a long list, but there are actually many different foods and recipes that you can feed your child to ensure that they get the nutrition they need to develop well.
Nutrient
Foods
Protein

Fish

Eggs

Carbohydrates

Wholegrain bread and cereals

Rice

Crackers

Potatoes

Fats

Dairy products

Meat

Fish

Iron

Red meats

Liver

Folate

Whole-grain cereals

Chickpeas

Asparagus

Fibre

Fruits

Chickpeas and lentils

Vitamin C

Citrus fruits

Tomatoes

Spinach
Recipe ideas
Need some inspiration on how to include these foods in your children's diet? Not the handiest in the kitchen? Fret not, for we have prepared some simple, kid-friendly recipes that are sure to tickle your children's taste buds. We don't want meltdowns and tantrums at the dinner table!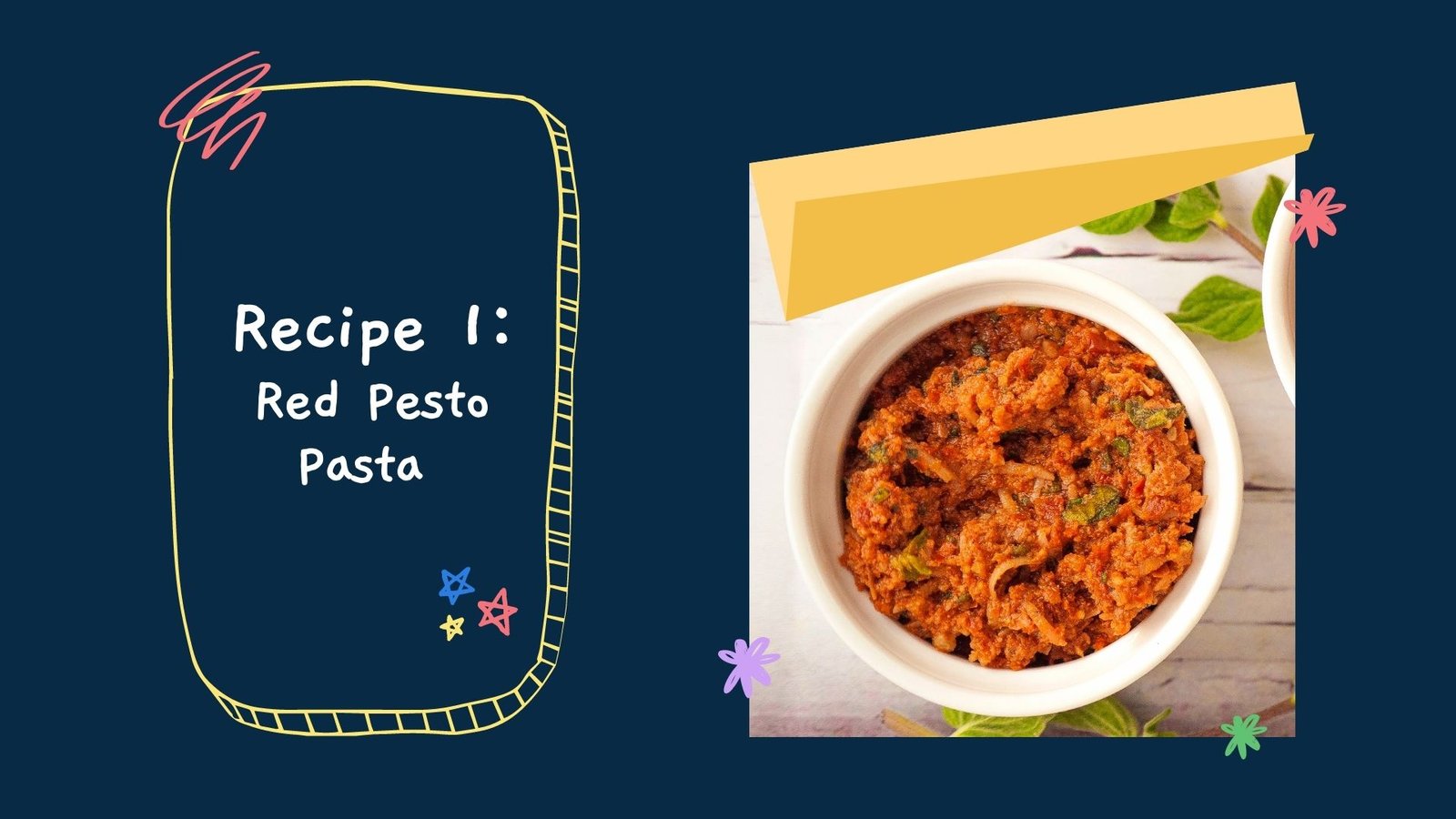 #1 Red pesto pasta
We know how hard it can be to get your children to consume greens. Try out this fun, red pesto instead! The vibrant red colour is sure to get some attention from your little ones.
Ingredients:
200g of sun-dried tomatoes (Vitamin C, fibre)
200g of roasted red peppers (Fibre)
20g of basil (Fibre)
1 garlic clove, minced
60g of pine nuts, toasted (Protein, fats, iron)
50g of parmesan, grated (Protein, fats)
50ml of olive oil (Fats)
Salt and black pepper to taste
Instructions:
Coarsely chop the tomatoes and peppers and place them into a pestle and mortar with the basil, garlic and pine nuts. Grind to a coarse paste.
Stir in the Parmesan and olive oil and adjust the seasoning to taste. Add a splash of water if the pesto is too thick.
Serve the pesto sauce over a bowl of a piping hot wholegrain pasta to boost the amount of carbohydrate and folate in the meal. Stir some ground beef into the sauce to add protein, fat and iron to this dish and make it even more balanced.
#2 Yoghurt snack cups
Ingredients:
Instructions:
Scoop out some of your favourite yoghurts into a bowl.
Sprinkle with some of your favourite toppings, such as dried or fresh fruit (e.g. blueberries and cranberries), muesli, nuts (e.g. almonds and peanuts) and seeds.
Enjoy as a refreshing after school snack or post-meal sweet treat. (Tip: Add some chocolate to make this even more enticing!)
Conclusion
We hope you've learnt more about the best foods you can prepare for your children. Happy and healthy children make for happy parents too! Want to find out more about how nuts can benefit your family? Click the following links to find out.