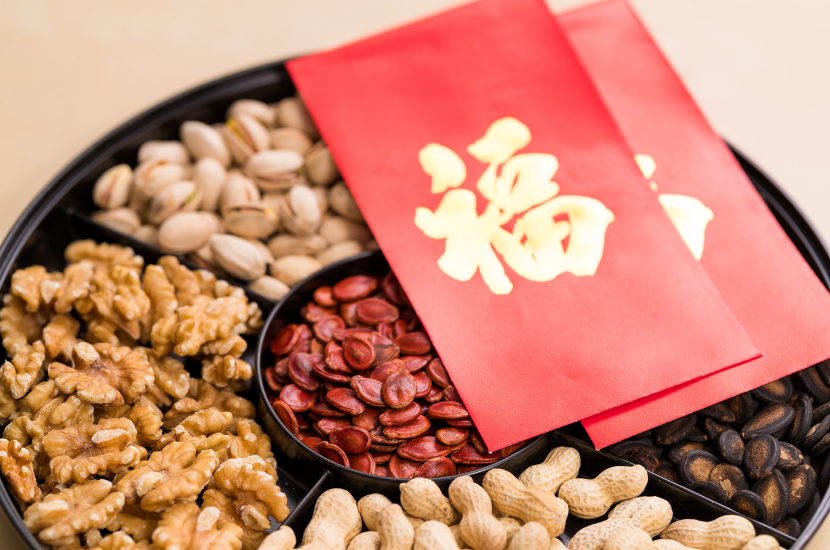 Nuts And Seeds To Be Eaten During Chinese New Year
As Chinese New Year comes around the corner, it is an opportune time for you and your family to get some nuts and seeds ready for your Chinese New Year festivities. Read on to find out more about the different nuts and seeds that are traditionally eaten during Chinese New Year, and their significance or nutritional benefits.
Seeds
Seeds in general are popular snack items eaten during Chinese New Year. This is because the word zi (子) in the Chinese name gua zi (瓜子) for "seed" is the same word used for "son" in Chinese. Thus, seeds represent people's wishes for children and they are a symbol for fertility. The Chinese even have a term for "cracking the shell with your teeth", called ke (嗑).
Black Watermelon seeds
They are one the most common seeds. However, they can be difficult to open. How you can open it is this: Place the seed vertically and upright between your front teeth, with the pointed tip at the top and the rounded corner at the bottom of your teeth. Bite on it and you will hear a cracking sound. Remove the seed and slowly pry open the shell with your fingers to extract the seed. Watermelon seeds are nutritious as they contain high amounts of omega-3 fatty acids, potassium, magnesium, copper and more. They also help to control blood sugar levels and are beneficial for people with diabetes, so be sure to get them.
Sunflower seeds
Sunflower seeds are another popular choice during Chinese New Year. They are also highly nutritious, containing high amounts of vitamin E and selenium. Selenium is needed for one's metabolism and thyroid function. Sunflower seeds also contain magnesium which helps to lower blood pressure. Lastly, sunflower seeds contain flavonoids which are antioxidants that help to reduce cellular damage. Most of the time, the sunflower seeds that you see on the Tray of Luck contains hulls (shells). These shells are black with streaks of white at the sides. However, our sunflower seeds do not contain hulls and hence are easy to consume. Get yours today!
Nuts
Peanuts
Try our honey roasted peanuts, which are deshelled and perfect for those who just want to pop them in your mouth. They are not ordinary nuts because the honey on them makes them a very addictive and pleasant snack. Furthermore, peanuts represent longevity, life, wisdom, and prosperity. This is because they are called hua sheng (花生) in Chinese, which means "flower of life". So, eat them if you want a healthy long life!
Pistachios
Pistachios are a common sight on every Tray of Luck platter. They are eaten during Chinese New Year because they represent happiness, as the nuts themselves look like they are "smiling". You can deshell these pistachios and snack on them while you watch the television as they are healthy snacks. Pistachios are rich in vitamin E, copper, thiamine, and manganese. They may help to lower cholesterol levels and the risk of heart illness due to the antioxidant properties present that lower oxidative stress. Hence, pistachios make for a healthy and cheery Chinese New Year snack. Get some to reap the nutritional benefits today!
 Cashew nuts
Although cashew nuts are not a traditional food, they are easy to consume for they are not hard and have a creamy taste. They resemble the gold ingots which were the ancient currency used in China. Thus, they are eaten during Chinese New Year in hopes for wealth.
Walnuts
Walnuts are one of the nutritious nuts in this list, having a much higher source of omega-3 fats than other nuts, which are beneficial for reducing the risk of developing heart illness. They are also known for being a brain food, reducing inflammation to provide better memory and cognitive ability. They are eaten during Chinese New Year as they represent reunion. Our walnuts are of high quality as they are sourced from California, hence you can confidently purchase them.
Chinese New Year goodies
If you are craving for some traditional Chinese New Year cookies and snacks, take a look at cnycookies.sg which offers a myriad of snacks, cookies, and goodies that cater to every taste bud. Not only do they offer a wide selection, but most of their Chinese New Year snacks are also halal. Furthermore, you are offered a 100% money back guarantee if you are dissatisfied with the quality of their goodies.
Here are some of our recommendations. For those who love a basic and delicious Chinese New Year goodie, try pineapple tarts which are the mainstays of Chinese New Year cookies. Pineapple tarts are eaten during Chinese New Year as pineapples represent wealth and prosperity due to their golden appearance. They are also sweet, which makes them a good dessert after meals. The pineapple tarts at cnycookies are sweet in the centre (but not overly so) and buttery all around, and hence they are a must-try.
However, for those who have pledged their loyalty to nuts, they could get some Chinese New Year cookies and snacks such as almond cookies, Danish cashew nuts, green pea cookies, peanut crackers, and almond chips. The  cookies taste buttery and nutty and have a crumbly texture. They are also a healthier option that will make you go nuts for them.
Conclusion
All in all, we hope that this list has given you an idea of the kind of nuts and seeds that are eaten during Chinese New Year. We have also given you some Chinese New Year goodies recommendations. Finally, our team here at nutsandsnacks would like to wish you an early 新年快乐,恭喜发财!