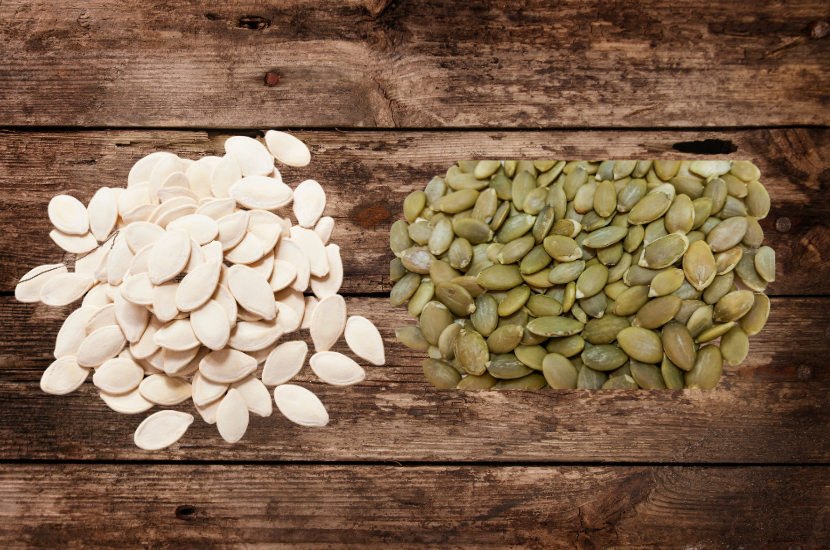 Pumpkin Seeds Vs Pepitas
Pumpkin seeds come in different forms and colours. Often, we get perplexed when we compare the white seeds with the green ones. The green seeds are called pepitas, which are a relatively unknown term for pumpkin seeds. They are different compared to the white seeds that are usually taken out from pumpkins used in Halloween parties.
What are pepitas
Pepitas are seeds without a hull. A hull is a shell or the outer covering of a seed. Pepitas come from Styrian or Oilseed pumpkins. In Spanish, the word pepita means "little seed of squash". Squash refers to the four species of genus Cucurbita (Latin word for gourd), of which pumpkins are one of them. Mexican people in the past used to eat these pepita seeds raw or grated in sauces. Pepitas have a sweet, nutty, and crunchy taste.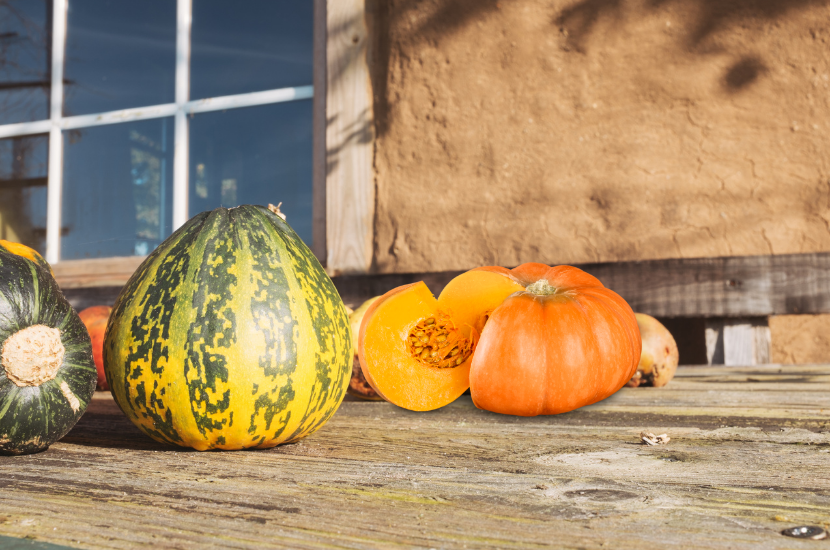 Differences
Pumpkin seeds have a thick white shell which are edible, while Styrian pumpkins do not have shells. To get the white pumpkin seeds, one would need to carve out the seeds and painstakingly remove the shells. On the other hand, the green seeds are commonly sold in supermarkets without its hulls and are sold either roasted or raw. Pumpkin seeds are not very heat tolerant, which makes roasting them at home difficult while pepitas are more easily roasted.
Health benefits
Pepitas make a good nutritious snack. They are low in calories and contain healthy fats and proteins. They also contain other minerals such as zinc, iron and manganese amongst others. Pepitas also promote bladder and prostate health. Most importantly, pepitas facilitate bowel movement to remove parasites and worms that align to intestinal walls.
Ways to consume pepitas
Pepitas can be added to sandwiches, soups, bread, baked goods, and burgers to add an extra crunch and to increase its nutritional value. They are also used in stews to enhance the flavour. Whole pepitas are eaten as a snack or ground to make nut butter. They can even be a substitute for pine nut to make pesto. Pepitas are relatively small and can be added anywhere, especially if you need some crunch for texture.
Below are some simple recipes that you can try out and start your healthy diet!
Roasted Pepitas
What you need:
1 to ½ a tablespoon of ground coriander
¼ tablespoon of freshly ground black pepper
1 tablespoon of olive oil
¾ tablespoon of kosher salt
1 cup of raw pepitas
½ a tablespoon of dried dill
A pinch of cayenne pepper
 Steps:
Place the rack in the center of the oven and heat it to 165 degrees.
On a large baking sheet, pour olive oil and flip the seeds around.
Spread the seeds evenly on the tray and roast them for 13 to 15 minutes, until they turn golden. Mix them every now and then.
Remove the tray and mix the seeds with cayenne, dried dill, coriander, salt, and pepper.
Let the seeds cool for 10 minutes.
There, your snack is ready. If you intend to eat the seeds at a later time, warm them in the oven for 1 to 2 minutes before serving.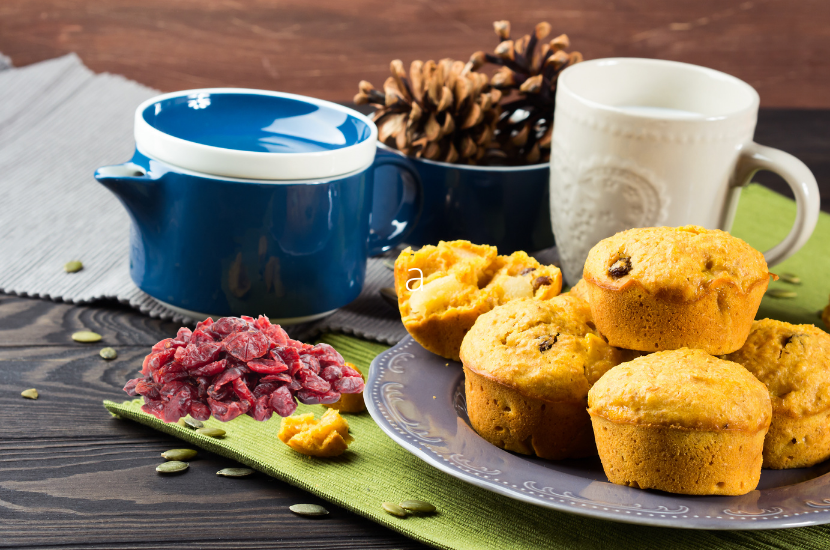 Pepitas with Cranberry Muffin
What you need:
¾ cup of pepitas (raw or roasted)
2 large eggs
½ a cup of milk
¼ teaspoon of baking soda
1 and a ½ cups of sugar
¼ teaspoon of salt
Cinnamon sugar as a garnish
225 grams of all-purpose flour
5 tablespoons of soft butter
2 cups of cranberries (fresh or frozen)
2 teaspoons of baking powder
1 teaspoon of vanilla
Steps:
Preheat the oven to 190 degrees.
Lay 12 paper cups on the baking tray.
Toast the pepitas in medium heat in a dry skillet and stir them consistently until brown. Leave it aside.
In a large bowl, blend the butter and sugar together until they are well mixed.
Whisk in the vanilla and the egg.
In another bowl, add the baking powder, baking soda, salt, and flour together and mix well.
Add this mixture to the wet mixture in step 5, alternating with milk and mix well.
Add in the cranberries and 1/2 a cup of the toasted pepitas and mix in.
Fill up ¾ of the tray with this mixture.
Scatter in a few pepitas and pour in some cinnamon sugar, depending on how you like it to be.
Bake the muffins for 20 to 25 minutes until brown.
Note: You may store the muffins in a container for up to 3 days.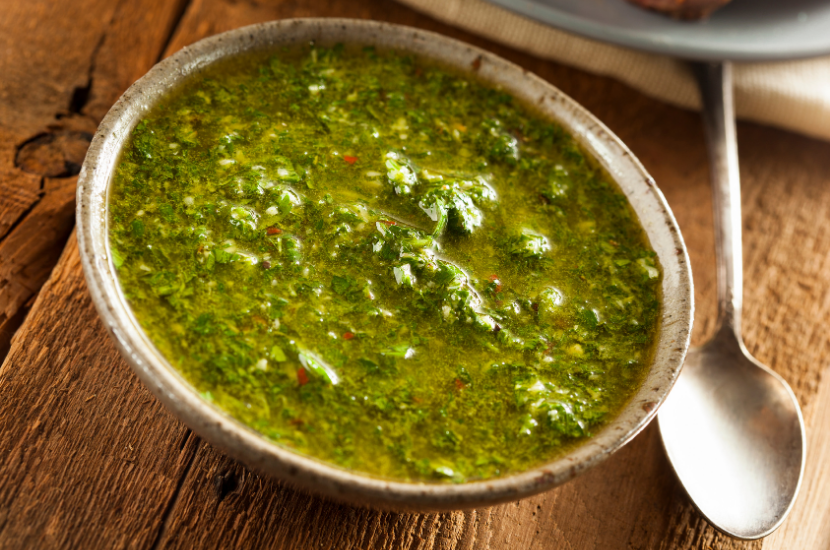 Poblano Pepita sauce
This flavourful sauce is a great complement to Mexican dishes and is relatively easy to make.
What is needed:
A large poblano pepper
½ a teaspoon of salt
1 teaspoon of coriander (with small stems)
1 cup of cilantro
2 garlic cloves
½ a cup of pepitas
Lime
¼ cup of water
¼ cup of olive oil
Steps:
Roast the poblano pepper on a gas stove until it turns charred and black at the sides. Alternatively, you may roast it in the oven at 230 degrees.
Soften the pepper by placing it in a towel to steam for 10 minutes.
Remove the stem and the seeds and the charred parts (but leave a little behind).
Blend or process the coriander, cilantro, oil, water, garlic, salt, pepitas and a drop of lime together.
Blend or pulse it until it is mixed well, but not too even as you would want it to have some bite.
Do a taste test and adjust the flavour with lime and salt.
If you want to reduce the spice levels, add in more pepitas, oil and water, salt, and lime.
Note: You may keep the sauce in the refrigerator for two to three days before consumption. To prevent discolouration for the top layer of the sauce, pour a little bit of olive oil over it.
Conclusion
All in all, pepitas are much easier to prepare than white pumpkin seeds. Furthermore, they also provide a lot of nutrients, vitamins, and minerals necessary for healthy living. Now that you have seen some ways of eating them, why not get a pack of pepitas today and try out our recipes?