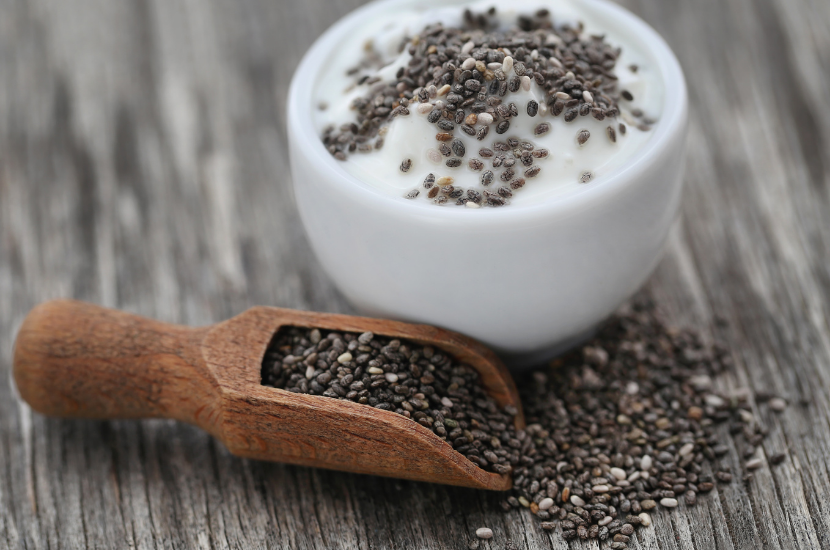 Chia Seed's Nutrition and Recipes
Chia seeds are a famous superfood known for being high in fiber, protein, and omega-3 fatty acids. Chia seeds come from the regions of Mexico and Guatemala and are an important diet for the Mayan's and the Aztec's. It is said that chia seeds were regarded as even more precious than gold.
Let's see why (Health benefits)
Chia seeds are high in fiber – just an ounce (28.35 grams) of chia seeds provides 10 grams of fiber, and that is almost half the daily recommended intake for a middle-aged woman. Fiber is needed for the digestive system to clean one's gut quickly and facilitate bowel movement. It also reduces inflammation in the intestines. Fiber helps to curb one's appetite, as people who consume chia seeds tend to feel fuller and consume less, leading to weight loss. Fibers are also beneficial for heart health and reducing cholesterol levels. Research has shown that increasing fiber intake by 10 grams everyday helps to reduce "bad" cholesterol levels. Fiber may also help to convert glucose into carbohydrates that are absorbed more slowly into the body. This helps to keep blood sugar levels more constant and therefore, benefit people with type-2 diabetes. Chia seeds are also high in protein, with 4 grams of protein in one serving of 28 grams. This makes chia seeds a good source of proteins for vegans and vegetarians. Proteins are essential for cell repair, muscle growth and they can help to reduce one's appetite for food. Lastly, chia seeds have high amounts of omega-3 fatty acids which are beneficial for heart health, as it can help reduce the risk of developing arrhythmias, which is the condition of having irregular heartbeat.
Ways to consume chia seeds
Chia seeds do not have to be smashed for one to reap the benefits of it, rather one can just add them as a whole bit, often into wet food such as porridge, drinks, and muesli etc. Chia seeds are tiny and do not have a strong taste to it, hence they can be added to just about anything. That is such a bonus for people who are not adventurous with their tastebuds. When chia seeds come into contact with watery substances such as in your water, smoothies, or acai bowls, they balloon up after 15 minutes and take on a gelatinous appearance.
Recipes
Blueberry and Chia Seed Jam
Try this delightful jam that is full of antioxidants, it makes a perfect spread for your bread or pancakes!
What you need:
3 cups of blueberries (frozen or thawed)
2 teaspoons of finely grated lemon peel
¼ cup of chia seeds
3 tablespoons of pure maple syrup
¼ cup of fresh lemon juice
Steps:
Simmer maple syrup, blueberries, grated lemon peel, and lemon juice over medium heat and stir every now and then. Cook for 5 minutes, when the blueberries begin to burst.
With a spoon, gently smash the blueberries to get the juices out. Then, increase the heat to a medium high and boil them, for around 5-10 minutes. Stir them every now and then. You may stop when the juice quantity is reduced by half.
Remove the jam and do a taste test of its sweetness. Adjust the amount of maple syrup added according to your preference. Let the jam boil again and add in chia seeds to cook for 1 minute.
Finally, your jam is done. Remove it from the saucepan and keep it in heat resistant containers. Let it cool completely before keeping it in the refrigerator.
Note: You may make this jam two weeks in advance and it can be stored/frozen in the refrigerator for up to two months.
Blueberry Chia Seed Popsicles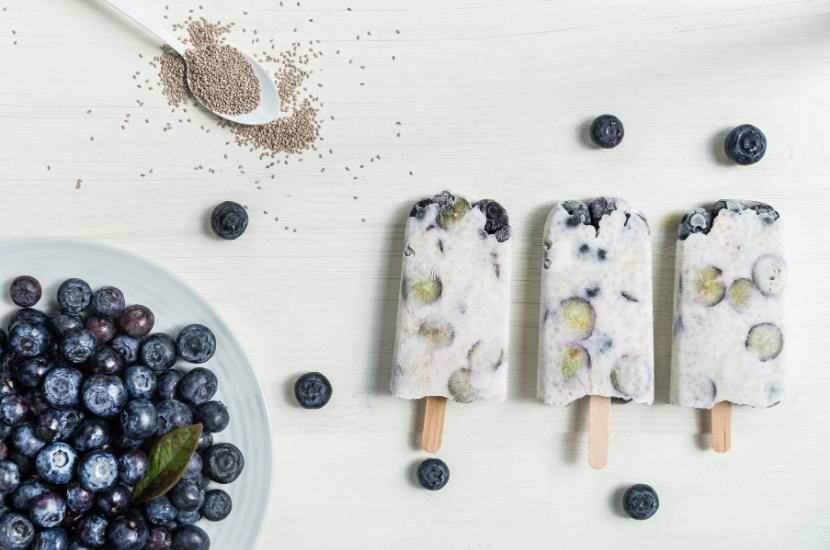 Beat the all-year summer heat in Singapore with this homemade recipe so that you don't have to run to the stores every time! This recipe uses the jam made earlier.
What you need:
1 cup of blueberry chia seed jam
A pinch of kosher salt
½ a cup of blueberries (frozen or thawed)
¾ cup of coconut water
1 tablespoon of fresh lime juice
Equipment:
6 ice pop molds of 68 ml each
Steps:
Blend coconut water, salt, jam, and lime juice in the blender until smooth. Next, pulse the blueberries in.
Pour the puree into your ice popsicles and freeze for at least 3 hours.
When you want to consume them, run them under hot water to remove it from the mold.
Note: You may make this popsicle a week in advance.
These banana muffins help to brighten your day with its sweetness and are a good breakfast grab when you are on the go!
What you need:
2 cups of oat flour
½ a cup of water
½ a cup of Greek yoghurt
¼ cup of maple syrup
½ a tablespoon of salt
3 tablespoon of baking powder
8 seedless dates
½ a cup of almond milk
3 lightly whisked eggs
½ a cup of chia seeds
1/3 cup of coconut oil
3 tablespoons of cacao powder
1 ripe banana
This recipe makes 12 muffins.
 Steps:
Preheat the oven to 350 degrees.
Add in salt, cacao, flour, baking powder, and chia seeds in a large bowl, and leave it aside.
To soften the dates, add them into a pot of boiling water or microwave them for 30 seconds.
Pulse the softened dates and the water in a blender or food processor until it has an even texture.
Blend in banana, beaten eggs, maple syrup, almond milk, and coconut oil until they mix in perfectly.
Take this blended mixture and pour it into the set-aside ingredients in step 2. Pour the blended mixture in small amounts and mix it thoroughly before pouring in some more.
Add in the yoghurt but do not mix it excessively.
Pour the batter into a greased muffin tin of standard size, but do not fill it to the brim. Pour it until there is still 1.27 cm of space to the top of the tin.
Sprinkle some chia seeds on top and bake for 20 minutes. Bake longer if the muffins are bigger.
Let the muffins cool and you may store them in the refrigerator for four days.
Now that you have found some ways to eat chia seeds, why not try them out now? They are full of nutrition and the bonus is that they are easy to consume. Simply sprinkle them on to your concoctions, bakes, and meals.